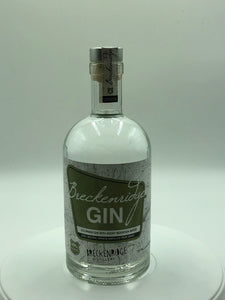 This is our standard house gin that competes with the large worldwide distillers at a much more enticing price.
The Breckenridge Gin is self-described as a "Fragrant American style gin" created through a combination of botanical maceration and gin basket distillation.  The base spirit is 100% neutral spirit distilled from grain. All of this is done on a custom built Vendome copper pot still.
Lovely juniper notes on the nose at first. Hints of traditional gin spice, albeit somewhat mild as far as gin noses go. Rather classic in character, with a slight amount of heat from the base spirit. It takes a moment for some of its character to open up— after a few moments I started to get notes of citrus from this gin,
The palate of Breckenridge Gin takes on a bit more contemporary and botanically complex character. Coriander and a hint of cardamom on the tip of the tongue ground the initial sensation in spice. Mid-palate there's a bit of lemon zest, with a slightly creamy, floral tinged spice— hints of black pepper, hibiscus petal segues into a more traditional back-of-the-palate combination of juniper and coriander.